Oliver Messel Houses in Barbados
Oliver Messel houses in Barbados
Oliver Messel houses in Barbados are much sought after and amongst the finest on the island. When asked what are the best houses on Barbados, the Oliver Messel houses in Barbados would generally rank highly amongst them.

Born in London in 1904 and educated at Eton College, Oliver Messel was originally a portrait painter who then went on to do theatre work. He became one of the leading theatre, film and set designers of the 20th century and was a master of theatrical illusion.See below the Oliver Messel designed houses in Barbados which are available to rent or for sale. Click here to see Oliver Messel rental properties in Barbados and click here to see Cockade House, an Oliver Messel house currently for sale in Barbados.
Messel's father, Leonard Messel, came from a long line of Jewish bankers and his mother, Maud, was daughter of Linley Sambourne, highly regarded illustrator for Punch magazine.
Messel himself was an attractive, well connected man who enjoyed a lively and flamboyant social life.
Messel's artistic talents were even used during the second world war. He served as a camouflage officer and revelled in the disguises he was able to create. Messel was not only a talented set designer, he also designed masks and costumes for theatre productions.
In 1953 Messel was commissioned to design the décor of one of the penthouse suites at the London Dorchester hotel. It became known as the Oliver Messel Suite and was reportedly the favourite place of Elizabeth Taylor when she stayed in London. This wonderfully ornate suite combining baroque and rococo styles, later restored with the assistance of Oliver Messel's nephew, Lord Snowden, has been preserved as part of Britain's national heritage.
Messel won a Tony award for the set he designed for Broadway show 'House of Flowers' in 1954. He also designed the sets for the Royal Ballet's production of Tchaikovsky's 'The Sleeping Beauty' which became the first ballet production shown on American television.
Oliver Messel's family were both wealthy and well connected and when his nephew, Antony Armstrong Jones (Lord Snowden), married Princess Margaret his family's lifelong connection with the royals began.
In 1959 at the age of 55, and suffering from arthritis, Oliver Messel moved from England to Barbados. He was immediately inspired by the light and vibrant colours of the Caribbean and lived in Barbados for 19 years until his death in 1978 at the age of 74.
It was in Barbados that Messel started his new career as architect and interior designer. Messel's designs were unique. Whilst he never formally trained as an architect, Messel had an incredible eye for detail and for the theatrical. He loved to use pillars, lattice work and Baroque styles and he was famous for his wonderful outdoor living terraces and fanlight arched windows.
Messel's designs were symmetrical, romantic and grand. He particularly loved to use the local Barbados coral stone and some of te coral stone carvings incorporated in the houses he designed are treasured works of art on their own. His classical theatrical arhitecture has stood the test of time. Buyers clamour to own an Oliver Messel home. Those who have been lucky enough to own one generally hang on to them and sadly they rarely come on the market.
The dining room at Leamington Pavilion is a fine example of Messel's eye for detail and use of local coral stone. It is one of the prettiest and most romantic dining rooms in Barbados. Designed by Oliver Messel, Leamington Pavilion is located on the northern part of the west coast of Barbados just before Speightstown.
It was in Barbados where Oliver Messel felt truly at home and upon arrival he bought a run down property on the beach in St James called Maddox. Using his immense talents and imagination, Messel turned this simple property into a romantic and dreamy home with Greek columns, large terraces and baroque furnishings. He particularly loved to incorporate white on white and then add splashes of colour here and there.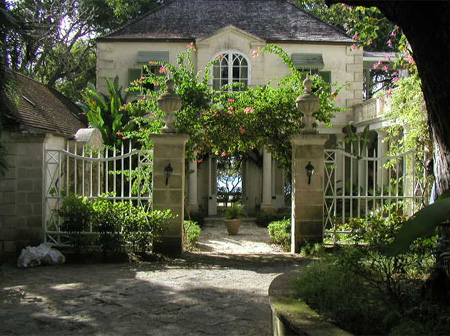 When Oliver Messel's many wealthy friends on Barbados saw how Messel had transformed Maddox they clamoured for him to design houses for them. Thus Messel's new career began. Messel became famous, of course, for his love of that subtle sage green paint which became his trade mark. This is now known as 'Messel Green.'
Messel went on to design Fustic House, Leamington House and Pavilion (for the Heinz family), Cockade House, St Helena, Nelson Gay, Alan Bay and Crystal Springs . He also designed and built Mango Bay.
Of all the Oliver Messel houses in Barbados it is claimed that Fustic House was Messel's favourite.
Not surprisingly these Messel masterpieces rarely come on the market. The only Messel property for sale on Barbados at the moment is Cockade House.
To see details about Cockade House click here.
Occasionally we hear about houses which are for sale 'off market' in Barbados so if you are interested in an Oliver Messel house or something similar let us know (email us as [email protected]) and we will let you know what is available on or off market.
Today desire for Messel designed homes continues. Sadly they are in limited supply. To own a Messel home is to own a piece of art. You treasure it and enjoy but, as a previous owner of Fustic House, William Gordon, said you are constantly thinking that it must be preserved for the next generation.
Sadly there won't be any more romantic Messel designed houses.
You may, however, rent one and if you are interested in renting Oliver Messel houses in Barbados have a look at our website Barbadosdreamvillas.com where Fustic House, Crystal Springs, Leamington Pavilion , St Helena and Nelson Gay are all available for holiday rental.
If you are looking for long term rentals in Barbados visit longtermrentalsbarbados.com
For short term rentals visit barbadosdreamvillas.com