Luxury property for sale in Barbados
If you are interested in luxury property for sale in Barbados look no further. We have a portfolio of luxury property for sale in Barbados.
Visit our website barbadosdreamproperties.com to see all our luxury property for sale in Barbados. We also have a number of 'offmarket' properties for sale which are not advertised. Contact us today with your requirements if you would like information about off market properties.
Sundial is a stunning, classical property. It is located on the much sought after Sandy Lane Estate. It sits on South Road and is set in 1.803 acres of lush tropical gardens.
The property is constructed from coral stone and is designed in classical plantation style. It has beautiful Messel style shutters on the windows and is being offered furnished.
This romantic property offers 7 bedrooms. There are 5 in the main house. These all have en suite bathrooms. A further two bedrooms are located in the poolside cottage. There are also 2 bathrooms in the cottage.
The master bedroom looks out over the pool and gardens. It has a large bathroom and dressing room. There is also an office down the hall from the master bedroom. Perfect for those who need to do any work.
2 of the bedrooms in the main house are on the ground floor. The other 3 bedrooms are on the upper level.
You enter the house through enormous wooden doors and step into a magnificent great room with high ceiling. This is a classical, elegant room that leads to a covered terrace. It enjoys views over the pool and extensive, private, lush gardens. The tropical gardens come complete with follies and ponds full of Koi.
There are terraces overlooking the garden from the kitchen and from one of the ground floor bedrooms.
The kitchen has just been renovated with an English 'Neptune' kitchen. It is a large, 'live in' bright kitchen with a seating area at one end. This is a perfect for entertaining and ideal for families and groups of friends.
The large Great Room is also ideal for entertaining and would house large parties on an indoor/outdoor basis. It is a grand, imposing room.
There is a large classical pool in the garden as well as beautiful koi ponds. The sound of the water cascading into the ponds is both peaceful and calming.
At the end of the pool is a pavilion that houses the gym, changing room and a coral stone bar. The bar looks out over the swimming pool.. This is a great spot for entertaining at lunch or sunset.
There is a two bedroom cottage across the garden and by the pool. This offers two bathrooms and is ideal for groups of friends or for adult children.
Sundial exudes a sense of peace, calm and elegance. It is a private, romantic property. With lots of very special spots to relax in this is a house of full of character.
Sundial occupants may use the facilities at the Sandy Lane Estate Beach Club, however, the use of cabanas would be an additional cost. They may also use the tennis courts on the Sandy Lane estate. Occupants also have access (at a cost) to the world renowned golf courses on the Sandy Lane estate
Sundial is less than 10 minutes' drive from Holetown. Early viewing is highly recommended.
If you are interested in Sundial contact us today
For other luxury property for sale in Barbados visit barbadosdreamproperties.com or contact us today
Property Size: 6400 sq ft
Seaduced is a high quality, purpose built, stunning 5-bedroom / 7-bathroom villa. It is ideally positioned overlooking the 16th Fairway of Royal Westmoreland's world renowned golf course. This villa has only recently been constructed and is a super luxury property for sale in Barbados.
This one-off, architecturally designed, luxury villa encompasses some 6,400 sq feet undercover. It is laid out over 2 storeys. Living space includes a media room, gym/office, laundry and staff area. There is open plan living and dining. There is also a kitchen courtyard around a central bridged water feature.
Seaduced enjoys gorgeous South-West views over the 16th Fairway to the Caribbean Sea.
The entrance to the house has been created with a unique wooden, welcome bridge over moving water. It features illuminated jet streams. The bridge leads into large open plan indoor spaces that flow seamlessly from room to room.
The kitchen features modern undercounter appliances built into European counter high cupboards. There is a large, stone waterfalled island.
The indoor living spaces open onto a large undercover terrace that features both a "wet" bar and an" al fresco" cook station. These are located at opposite ends to each other. They perfectly frame the large, negative- edge swimming pool. The pool is ideally positioned to overlook the golf course and sea beyond. Steps either side of the pool lead down to a substantial sun deck.
One of the guest bedroom suites can be found on this main level and is easily accessed via the main entry courtyard.
An illuminated, wood featured staircase leads to the first floor where the remaining three en suite Guest Bedrooms are situated. The large Master Suite is also located in the top left-hand corner of the property. This takes full advantage of the south west view.
All the bedrooms are fully fitted with tall European style, built in closets. They are complemented with clean and contemporary styled bathrooms.
Externally, the property features a purpose-built car port for 2 cars. It has a gated entrance and fully landscaped floodlit gardens.
The villa also comes with planning permission for a sizable 2-bedroom, 2-bathroom guest cottage. This could be constructed at a later date should the need arise.
Seaduced is one of a select few large, new custom homes completed and brought to market this year at Royal Westmoreland. It is a turnkey property that is available fully furnished.
If you are interested in Seaduced contact us today
The One at The St. James is a stunning five bedroom beachfront apartment. It is located on the first floor.
This is a luxury, contemporary beachfront apartment. It sits in a perfect location on the West coast of Barbados. It is just south of Sandy Lane beach.
This beautiful home enjoys breathtaking views overlooking the pristine white sands of Paynes Bay. It offers a peaceful retreat just minutes from the hustle and bustle of the trendiest bars, restaurants and local amenities.
Ideally situated on Paynes Bay beach, you can enjoy incredible sea views. This bay usually offers excellent swimming conditions and long walks on a powdery white beach.
The One at The St. James offers a spacious open plan design. It enjoys stunning views of the turquoise bay below.
The apartment is light and airy throughout. There are three additional bedrooms in the main apartment all with en suites of varying sizes. There is also lots of wardrobe space.
There is a fifth bedroom in the detached guest cottage with a small kitchenette. This has a living/dining area which can be accessed from the ground floor, as well as the apartment. It offers an excellent option for visiting guests who require a little more privacy.

The One at The St. James is ideally located just minutes from many of the West Coasts most popular bars and restaurants. It is also minutes away from world class golf courses and luxury brand shopping.
If you are looking for an ultra modern property on the beach with fantastic views look no further.
If you are interested in The One at The St. James contact us today
The Beach Hut is a luxurious villa built in a fabulous elevated location. It is surrounded by lush tropical plants chosen to provide complete privacy. Carefully designed to take advantage of the breathtaking sea views, the split-level accommodation offers approximately 6500sqft. of living space. The property is desirably located in Paynes Bay on the West Coast of Barbados.
The Beach Hut features 6 beautifully appointed bedrooms, 6.5 bathrooms, an entrance foyer, an open-plan living/dining room, a fully equipped kitchen, a laundry room, staff quarters and a spacious terrace with wet bar, which leads on to the sun deck where there is a barbecue area, an inviting negative-edge swimming pool and a Jacuzzi.
Throughout the property floors are tiled with shell stone tiles and the bathrooms are complemented with marble tiles.
A private stairway leads from the pool deck to an unspoilt beach below where the irresistible blue waters of the Caribbean Sea gently lap the shoreline. The property is enclosed and features electric gates, and also has a double car garage.
This beautiful property is ideally located to enjoy the wide ranging amenities on the west coast of Barbados. It is just minutes from The popular Cliff restaurant, Sandy Lane hotel and golf course, pristine beaches and shopping.
This property is avaiable for viewing and is listed at US$7,500,000.
NIRVANA US$6m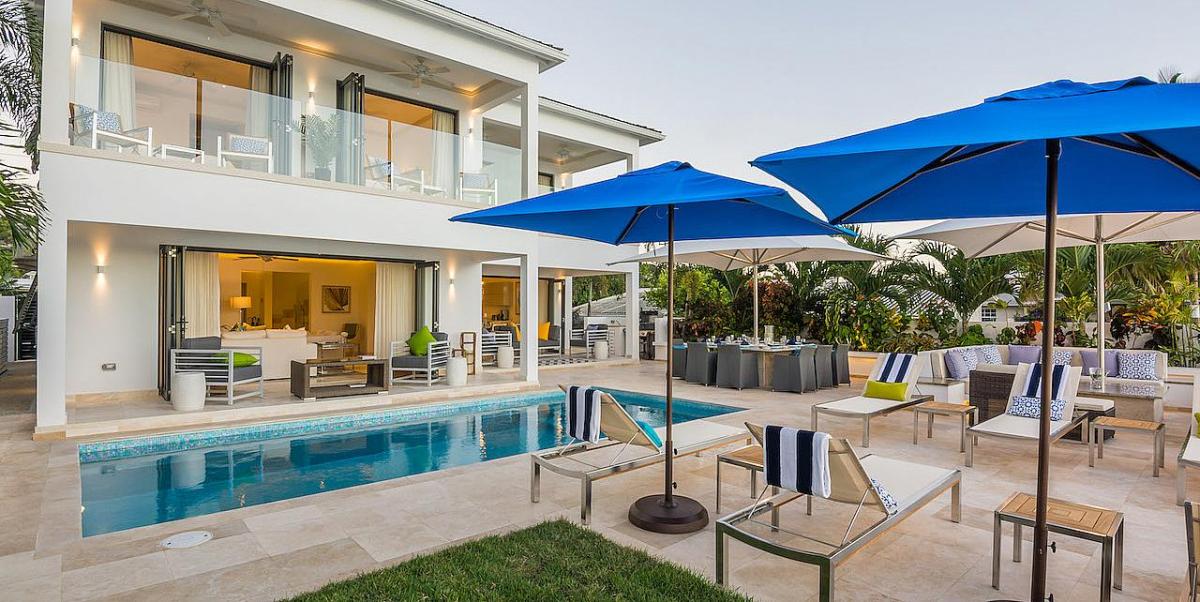 Nirvana is a stunning,contemporary 5 bedroom beach front villa. It has its own pool with outdoor pool bar and direct access to the beach.
Nirvana was recently renovated and it is located close to Fitts Village on the West Coast. It is a beautifully decorated contemporary villa offering high quality interiors.
Nirvana has an amazing roof top sunset bar . This has plenty of seating and you can enjoy the elevated sea and beach views. Once the sun has set the uplifting music and glow of the subtle lighting creates the perfect ambiance. Sit and enjoy the view. Sip your expertly prepared cocktails and canapés under a star filled night.
If you are interested in Nirvana or any other luxury property for sale in Barbados contact us today
Land Area:

56,628 sq ft sq ft
Cove Spring House is another luxury property for sale in Barbados. It is the ultimate sanctuary for anyone seeking privacy, peace, direct access to the calm Caribbean sea and still be able to enjoy luxury villa living. Cove Spring is a magnificent 10 bedroom villa located in a fabulous ocean front location. There are 7 spacious bedrooms in the main house and 3 bedrooms in a seperate villa. Four of the bedrooms have Jacuzzi baths. All the bedrooms are air conditioned and fully equipped. Each has its own direct dial telephone, television, DVD and cable as well as WiFi throughout the bedrooms and property.
The house straddles two rocky limestone bluffs that has a small sandy beach between them only accessible from the house or by boat. There are lots of areas to dine in or spots to escape and read a book whilst gazing out to sea.
Cove Spring House is beautifully furnished with linens and furnishings from renowned designers such as Ralph Lauren. There are Indonesian day beds, luxury double Thai loungers and furniture from various parts of the world.
The house has a lovely bar for sunset cocktails which are glorious on the west coast of barbados.
There is also a large cinema room, a state of the art fitness centre and a large half moon swimming pool and jacuzzi to be enjoyed.
There is so much space indoor and outdoor for Spa services, yoga and personal training in private and unique settings.
Located in the an area known as "The Garden" in the parish of St James it's just a few minutes from everything from Golf, tennis, water sports, shopping, the best restaurants on the Island and all the amenities of nearby Holetown.
Cove Spring House is one of the finest villas on the Barbados. It been host many famous guests and film stars. Many have returned year after year.
Cove Spring House is an ultra luxury property. There are few to match it in style, location and architecture. It is the epitome of luxurious Caribbean living.
This is just a small selection of our luxury property for sale in Barbados. If you are looking for luxury property for sale in Barbados contact us today. Alternatively contact Stephen Grant on [email protected]
For long term rentals in Barbados visit longtermrentalsbarbados.com
For holiday rentals in Barbados visit barbadosdreamvillas.com